How about stuff that becomes
truly worthless
?
Right now I have a
Yamaha QY10
. About 30preset pre-GM sampled sounds wedded to Yamaha's trademark arranger/sequencer (4 backing tracks from patterns, 4 "linear" tracks). It does sequence external MIDI and has a full event editor to tweak with. You can create your own pattern "styles" in addition to the factory set.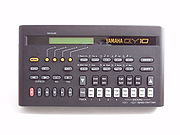 20 years ago this was hot stuff...but what good is a super portable 8-track "walkstation" in today's laptop studio world? Keep? Toss?
I hung on to my TR-505 for about 15 years after I had used it for anything before I sold it. I've still got a few rack units (Behringer Feedback Destroyer, DOD RDS3600, MicroVerb, NanoComp), some amps in need of TLC, old tape machines, a pre-MIDI Kawai home keyboard. These things all trade in the $25 or less range.
I guess I'd rather give it away than throwing it out if I knew anyone who needed any of it.