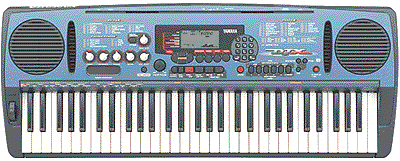 I have heard in a few corners on the net that Yamaha used the CS1x engine inside the DJX series of consumer keyboards.
Evidently, Yamaha wanted to keep it quite that they did this.. so as not to devalue/embarrass the CS1x.
I'm fairly convinced this is true, to a degree... that lurking inside the DJX is a core CS1x engine.
The sounds are almost identical between a DJ/CS.
I think the DJ might not have as an elaborate FX section as the CS used... it's the only part I hear between the two that makes the DJ sound a bit more.. "cheap". Otherwise, the raw sounds themselves seem identical.
Granted, the CS has more voices to choose from, but the sounds that are compared between the two do sound very similar, if not identical.
They have similar XG parameters and CC#'s. The FX section is very similar..
There's been mention that a article in Future Music magazine discussed this DJ/CS connection and how to go inside to alter "hidden" CS1x parameters... now I'm not sure if they just mean the XG parameters or something deeper.. like parameters you would find on the CS.
Anyone else heard of this article???