This afternoon I've had the pleasure to fiddle about with a new stereo chorus unit built by a friend of mine, who is an excellent synth tech and electronic musician. With the right settings, it provides an outstanding Solina and Rhapsody chorus emulation. However, it goes far beyond that - some of the results can be truly wild. It's based on three delay lines controlled by two LFOs (1 high 1 low) that can go into the audio range. The phase between the delays can be changed and all of them can be panned - hence
stereo
chorus.
In his own words:
"It all started as a Solina chorus clone, with just two pots, and it ended as a 16-parameter beast in a 1U rack format. The 3 delay lines are identical to those featured by the Solina and Elka Rhapsody, so you can re-create perfectly both behaviours.
Apart from being stereo (with level and panpot in every delay cell) it sports level, rate and clip controls in both LFOs - one creating the 'spacey' effect and the other with a higher frequency that modulates the first LFO's amplitude.
I made a special effort to reduce the output hiss and distortion, althought it features the same chips that both machines used (made by ITT in 1969), so you can still expect a bit of output noise in there."
I've only noticed that noise in quiet damp sounds (very low cutoff freq) and it's by no means remarkable. It even adds character to the sound.
Unfortunately I've had no time to record any samples, just to take a few rush photos.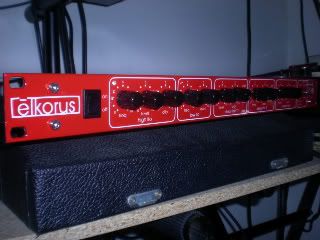 I have been told that further information and samples will be posted soon at
http://www.synthoma.net
, so stay tuned if you're interested.